Every donation makes an impact. Thank you for your generosity!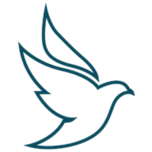 Recurring donors help ensure we have sufficient funding to make a measurable difference throughout the year. Will you consider making an even bigger impact with a recurring donation?
Poverty Impact Network is a 100% volunteer organization. Your contribution helps restore the health, dignity, and self-esteem of vulnerable populations by  increasing access to essential hygiene products. We are grateful for your generosity!
Financial Contributions
Your support allows us to reduce hygiene poverty and improve health right here within Lincoln and Lancaster County. Monetary donations provide the most impact because of our ability to purchase in bulk at wholesale prices.
How your contributions can help:
A $75 donation provides 15 families a full-size hygiene kit
A $50 donation provides 16 people a 1-month supply of menstrual hygiene products
A $25 donation provides 125 twin-blade razors
A $10 donation provides 40 people with a quality toothbrush
Every donation, no matter the size, makes an impact.
Thank you for supporting Poverty Impact Network and our community!
Donate Hygiene and Personal Care Products
We accept donations of new, unopened hygiene and personal care products. Send us an email or give us a call at 402.413.9927 to coordinate the delivery of your donation items. Even better, you can keep it simple by shopping at our Walmart Registry For Good registry or our Amazon Wish List where the items will be sent directly to Poverty Impact Network (please remember to send a gift receipt so we know who to thank). 
Deodorant
Shampoo
Razors
Shaving Cream
Toothpaste
Lotion
Chapstick
Tampons
Maxi pads
Urinary Incontinence Pads
Conditioner
Fingernail and Toenail Clippers
Bar Soap
Liquid hand soap
Laundry Detergent Sheets
Washcloths
Q-tips
Dish Soap and Dish Scrubbers
Socks
Ziplock bags, 1 gallon size or larger
Items we're unable to accept
In order to maximize our impact on reducing hygiene poverty, we aren't able to accept:
Clothing (except socks)

Housewears such as small appliances and utensils

Appliances

Electronics

Furniture and other home decor
There are numerous local organizations in need of these items and we're happy to put you in touch with them, just send us an email! Thank you for your understanding.
Memorials and Tributes
A tribute gift is a meaningful way to convey sympathy to the bereaved, memorialize a loved one, or honor a person's life. Your gift to Poverty Impact Network made in memory of or to honor this special person ensures a legacy that extends far into the future.
Host a Collection Drive
Retailers, employers, or individuals may host a product collection drive for Poverty Impact Network. We can provide social media images and collection bins to help. Are you ready to hold a drive? Complete your information here!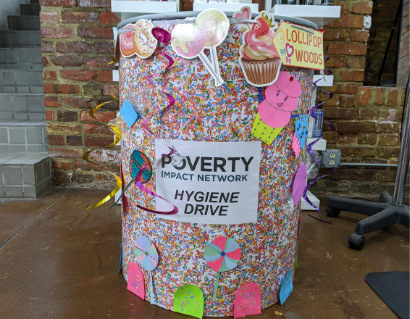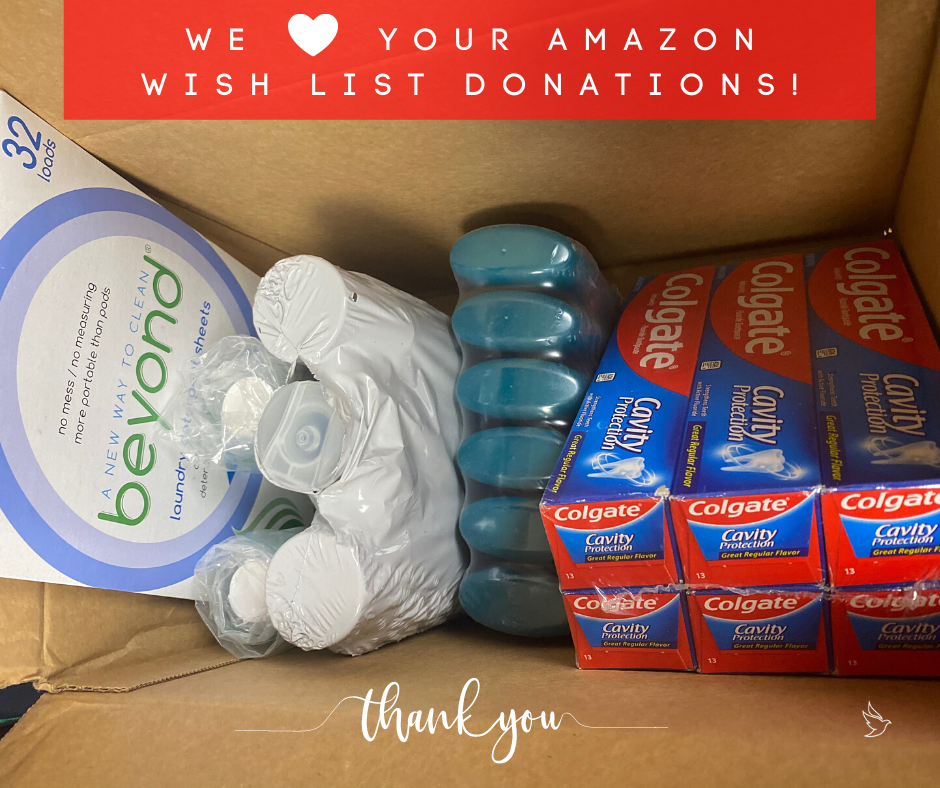 JOIN THE NETWORK AND MAKE YOUR IMPACT TODAY!